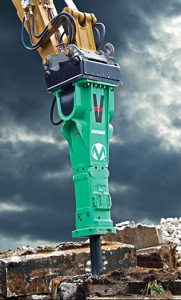 For smaller jobs, the Montabert Compact Series Hydraulic Breakers provides the versatility and productivity to accomplish multiple tasks with a single carrier, a single operator, and a single attachment. The Compact Series Breakers are designed for use on skid-steer loaders, backhoe loaders, and mini/mid-size excavators.
The Compact Series consists of nine models, weighing 60 to 500kg, for 0.7 to 12 tonne machines – there is at least one breaker for any compact carrier. These breakers are very tolerant to back pressure and can face all existing hydraulic systems with their internal pressure regulation. They can take up to 35 bar backpressure, meaning there isn't a mini-excavator on which a Compact Series can't be mounted. For ease of operation breakers in the Compact Series, line has blank fire protection to take the pressure off the operator.
Blow energy is made for breaking rocks, not your excavators or your ears. Compact Series breakers are shock mounted breakers, protecting the excavator boom and breaker housing from cracks while working with very low sound levels. The fully enclosed, soundproof cradle reduces vibrations transferred to the carrier and limits noise on the worksite.
Maintenance and overhaul are quick and easy because of fewer wear parts and no tie robs; bushing, pins, and tools can be easily replaced in the field without removing the breaker from the carrier.
Monty Products is the official distributor for Montabert Rockbreakers in Western Australia/Northern Territory and provides capital sales, spare parts, and technical service for Montabert products. To learn more about the Compact Series of Rockbreakers or anything else from the Montabert range follow the link to our Products page, or contact the sales team at Monty Products.