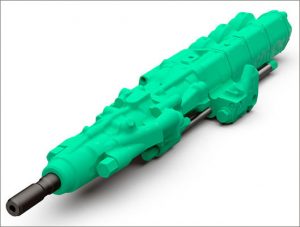 Monty Products supplies only the best and advanced equipment to the mining and construction sector, and our Montabert hydraulic drifters are no exception. Montabert drifters are the result of years of experience in hydraulic rock breakers and drifter design and manufacturing.
Deep knowledge in shock wave transmission and percussion mechanism theory have allowed Montabert engineers to be the first to develop concepts such as hydraulic dampening and progressive blow energy.
Montabert hydraulic drifters are recognised worldwide for high performance, reliability, long maintenance intervals and low tool consumption.
Features
Montabert's Progressive Blow Energy technology is provided by the unique trapezoidal shape of the drifter's piston generating a perfect long shockwave. This allows for better transmission of energy at the couplings, minimum stress into the drilling rods, and better bit penetration.
The Hydraulic Dampening system absorbs the lost part of the reflected energy and ensures a constant thrust onto the tools. This has the knock-on effect of extending the lift of striking bars, optimum shockwave transmission, protection of the drifter and tools, and reduced vibrations.
Montabert drifters feature an Energy Recovery Valve that allows the piston rebound energy to be utilised for the next blow. This results in better efficiency, no internal peak of pressure source or cavitation, and superior protection for the drifter.
Monty Products are the official distributor of Montabert rock breakers and drifters in Western Australia and the Northern Territory, offering surface and underground drilling equipment across Australia. To find out more about Montabert drifter parts, servicing and repairs, head to the products page, or contact the sales team at Monty Products today.