IN ADDITION TO OUR UNIQUE CHAIN CUTTER WITH A CUTTER CHAIN RUNNING BETWENN CUTTER DRUMS, NOW WE HAVE ROTARY DRUM CUTTERS WITHOUT THE CUTTER CHAIN IN OUR PRODUCT RANGE.
In addition to standard EK and the convertible EKT range, traditional style rotary drum cutters are now also available from KEMROC. They are designated as the new KR rangeof drum cutters. Designed to be incredibly robust, these attachments are ideal for use on short arm excavators working in confined spaces, especially in tunnelling and also for the vibration free and silent demolition of re-enforced concrete structures.
The new KRD range of direct drive drum cutters can be described as compact, lightweight but strong. Lighter and shorter, these attach­ments are ideal for use on long-arm excavators for demolition and shaft sinking applications. They can also be used for soil stabilisation and concrete renovation applications. Intentionally oversized bearings have been used to support the cutter drums for a long operating life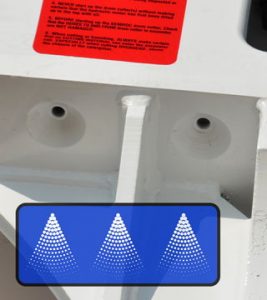 The patented EK range of chain cutters are one of our core products and continues to be recommended as an ideal tool for trenching contractors. This concept is being expanded with the addition of the new EKT range of traditional style drum cutters. These lower priced models are supplied as rotary drum cutters without a central cutting chain, but conversion kits are available so that cutter chains can be fitted later.
EKT Range
Rotary drum cutters – can be converted into chain cutters
Recommended excavator weight: 18 – 70 t
Possibility of conversion to a chain cutter: yes
Applications:
Trenching and pipeline work
Mining of soft to medium hard minerals
Also used for concrete renovation, profiling, underwater excavations and tunnelling
FEATURES
Can be converted to an EK model
Tough, rigid gearbox housing
High torque motors for maximum cutting force
Drums with cutter tool pattern designed for optimum energy saving efficiency
Drums supported on robust bearings
Protection for hydraulic hoses
APPLICATIONS
Trenching and pipeline work
Mining of soft to medium hard minerals
Also used for concrete renovation, profiling, underwater excavations and tunnelling
| | | | | | | | | | | |
| --- | --- | --- | --- | --- | --- | --- | --- | --- | --- | --- |
| | EKT 20 | EKT 40 | EKT 60 | EKT 100 | EKT 110 | EKT 140 | EKT 150 | EKT 160 | EKT 160 HD | EKT 220 |
| Recommended excavator weight | 2 – 4 t | 5 – 10 t | 10 – 17 t | 18 – 30 t | 20 – 30 t | 20 – 40 t | 30 – 45 t | 35 – 45 t | 35 – 50 t | 45 – 60 t |
| Rated power | 22 kW | 44 kW | 60 kW | 100 kW | 110 kW | 150 kW | 150 kW | 160 kW | 160 kW | 220 kW |
| Possibility of conversion to a chain cutter | yes | yes | yes | yes | yes | yes | yes | yes | yes | yes |
| Drum cutter length (A) | 790 mm | 990 mm | 1,190 mm | 1,440 mm | 1,440 mm | 1,510 mm | 1,510 mm | 1,510 mm | 1,510 mm | 1,785 mm |
| Cutter head width (B) | 400 mm | 500 mm | 500 mm | 700 | 800 mm | 700 | 800 mm | 880 mm | 880 mm | 880 mm | 1,060 mm | 925 mm |
| Cutter drum diameter (C) | 225 mm | 450 mm | 590 mm | 688 mm | 688 mm | 720 mm | 720 mm | 720 mm | 720 mm | 860mm |
| Maximum torque at 380 bar | 2,000 Nm | 5,700 Nm | 11,000 Nm | 18,240 Nm | 24,500 Nm | 25,400 Nm | 30,300 Nm | 34,000 Nm | 34,000 Nm | 63,000 Nm |
| Maximum cutting force at 380 bar | 17,750 N | 25,300 N | 37,300 N | 53,023 N | 71,221 N | 70,556 N | 84,167 N | 94,444 N | 94,444 N | 146,512 N |
| Recommended rotation speed | 100 rpm | 70 rpm | 70 rpm | 80 rpm | 75 rpm | 70 rpm | 70 rpm | 65 rpm | 65 rpm | 50 rpm |
| Recommended oil flow | 20 – 40 l/min | 70 – 90 l/min | 130 – 200 l/min | 190 – 250 l/min | 250 – 320 l/min | 250 – 320 l/min | 300 – 380 l/min | 320 – 400 l/min | 320 – 400 l/min | |
| Maximum oil flow at 10 bar | 50 l/min | 120 l/min | 220 l/min | 350 l/min | 350 l/min | 380 l/min | 400 l/min | 400 l/min | 400 l/min | 800 l/min |
| Maximum hydraulic pressure | 400 bar | 400 bar | 400 bar | 400 bar | 400 bar | 400 bar | 400 bar | 400 bar | 400 bar | 400 bar |
| Weight | 180 kg | 450 kg | 730 kg | 1,300 kg | 1,300 kg | 2,350 kg | 2,350 kg | 2,350 kg | 2,500 kg | 3,000 kg |
| Number of picks | 44 pcs | 60 pcs | 40 pcs | 40 | 44 pcs | 40 | 44 pcs | 44 pcs | 44 pcs | 44 pcs | 44 pcs | 44 pcs |
| Standard pick | 16/29/25/14 C | 16/46/38/20 C | 15/46/38/22 C | 17/75/70/30 Q | 17/75/70/30 Q | 17/75/70/30 Q | 19/75/70/30 Q | 19/75/70/30 Q | 19/75/70/30 Q | |
EKT 100
Recommended excavator weight 18 – 30 t
Rated power 100 kW
Possibility of conversion to a chain cutter yes
Drum cutter length (A) 1,440 mm
Cutter head width (B) 700 I 800 mm
Cutter drum diameter (C) 688 mm
Maximum torque at 380 bar 18,240 Nm
Max. cutting force at 380 bar 53,023 N
Recommended rotation speed 75 rpm
Recommended oil flow 190 – 250 l/min
Maximum oil flow at 10 bar 350 l/min
Maximum hydraulic pressure 400 bar
Weight 1,300 kg
Number of picks 40 I 44 pcs
Standard pick 1) 17/75/70/30 Q
EKT 110
Recommended excavator weight 20 – 30 t
Rated power 110 kW
Possibility of conversion to a chain cutter yes
Drum cutter length (A) 1,440 mm
Cutter head width (B) 700 I 800 mm
Cutter drum diameter (C) 688 mm
Maximum torque at 380 bar 24,500 Nm
Max. cutting force at 380 bar 71,221 N
Recommended rotation speed 75 rpm
Recommended oil flow 250 – 320 l/min
Maximum oil flow at 10 bar 350 l/min
Maximum hydraulic pressure 400 bar
Weight 1,300 kg
Number of picks 40 I 44 pcs
Standard pick 1) 17/75/70/30 Q
EKT 140
Recommended excavator weight 20 – 40 t
Rated power 140 kW
Possibility of conversion to a chain cutter yes
Drum cutter length (A) 1,510 mm
Cutter head width (B) 880 mm
Cutter drum diameter (C) 720 mm
Maximum torque at 380 bar 25,400 Nm
Max. cutting force at 380 bar 70,556 N
Recommended rotation speed 70 rpm
Recommended oil flow 250 – 320 l/min
Maximum oil flow at 10 bar 380 l/min
Maximum hydraulic pressure 400 bar
Weight 2,350 kg
Number of picks 44 pcs
Standard pick 1) 17/75/70/30 Q
EKT 150
Recommended excavator weight 30 – 45 t
Rated power 150 kW
Possibility of conversion to a chain cutter yes
Drum cutter length (A) 1,510 mm
Cutter head width (B) 880 mm
Cutter drum diameter (C) 720 mm
Maximum torque at 380 bar 30,300 Nm
Max. cutting force at 380 bar 84,167 N
Recommended rotation speed 70 rpm
Recommended oil flow 300 – 380 l/min
Maximum oil flow at 10 bar 400 l/min
Maximum hydraulic pressure 400 bar
Weight 2,350 kg
Number of picks 44 pcs
Standard pick 1) 19/75/70/30 Q
EKT 160
Recommended excavator weight 35 – 45 t
Rated power 160 kW
Possibility of conversion to a chain cutter yes
Drum cutter length (A) 1,510 mm
Cutter head width (B) 880 mm
Cutter drum diameter (C) 720 mm
Maximum torque at 380 bar 34,000 Nm
Max. cutting force at 380 bar 94,444 N
Recommended rotation speed 65 rpm
Recommended oil flow 320 – 400 l/min
Maximum oil flow at 10 bar 400 l/min
Maximum hydraulic pressure 400 bar
Weight 2,350 kg
Number of picks 56 pcs
Standard pick 1) 19/75/70/30 Q
EKT 220
Recommended excavator weight 45 – 70 t
Rated power 220 kW
Possibility of conversion to a chain cutter yes
Drum cutter length (A) 1,785 mm
Cutter head width (B) 920 mm
Cutter drum diameter (C) 860 mm
Maximum torque at 380 bar 63,000 Nm
Max. cutting force at 380 bar 146,512 N
Recommended rotation speed 50 rpm
Recommended oil flow 550 – 750 l/min
Maximum oil flow at 10 bar 800 l/min
Maximum hydraulic pressure 400 bar
Weight 3,000 kg
Number of picks 44 pcs
Standard pick 1) 25/80/80/38 S
KR Range
Rotary drum cutters with spur gears
FEATURES
Extra heavy-duty, rigid gear box housing
Equipped for optional water spray dust suppression system
High torque motors for maximum cutting force
Cutter tool pattern on drums designed for optimum energy saving efficiency
Drums supported on heavy-duty bearings
Exceptional wear protection on the gearbox
Protected hose management
APPLICATIONS
Tunnelling
Demolition
Also used for trenching and pipeline work, renovating concrete, profiling, mining of soft minerals and underwater excavating
| | | | | | | | | | | | | | | | | | | | |
| --- | --- | --- | --- | --- | --- | --- | --- | --- | --- | --- | --- | --- | --- | --- | --- | --- | --- | --- | --- |
| | KR 15 | KR 18 | KR 20 | KR 30 | KR 35 | KR 45 | KR 50 | KR 65 | KR 80 | KR 110 C | KR 110 | KR 120 C | KR 120 | KR 150 C | KR 150 | KR 160 | KR 165 | KR 200 | KR 400 |
| Recommended excavator weight | 0.6 – 3 t | 2 – 4 t | 2 – 4 t | 5 – 8 t | 5 – 8 t | 9 – 15 t | 9 – 15 t | 12 – 18 t | 15 – 25 t | 20 – 35 t | 20 – 35 t | 20 – 40 t | 25 – 45 t | 30 – 50 t | 30 – 50 t | 35 – 55 t | 35 – 55 t | 50 – 70 t | 80 – 125 t |
| Rated power | 15 kW | 18 kW | 18 kW | 30 kW | 30 kW | 45 kW | 45 kW | 65 kW | 80 kW | 110 kW | 110 kW | 120 kW | 120 kW | 120 kW | 120 kW | 160 kW | 160 kW | 200 kW | 400 kW |
| Drum cutter length (A) | 628 mm | 628 mm | 636 mm | 846 mm | 848 mm | 990 mm | 1,014 mm | 1,195 mm | 1,235 mm | 1,470 mm | 1,470 mm | 1,470 mm | 1,470 mm | 1,470 mm | 1,470 mm | 1,596 mm | 1,590 mm | 1,650 mm | 1,970 mm |
| Cutter head width (B) | 425 mm | 425 mm | 495 mm | 520 mm | 620 mm | 600 mm | 690 mm | 805 mm | 805 mm | 880 mm | 1,040 mm | 880 mm | 1,040 mm | 880 mm | 1,040 mm | 1,050 mm | 1,250 mm | 1,330 mm | 1,600 mm |
| Cutter drum diameter (C) | 225 mm | 225 mm | 240 mm | 370 mm | 370 mm | 400 mm | 450 mm | 587 mm | 575 mm | 718 mm | 718 mm | 718 mm | 718 mm | 718 mm | 718 mm | 718 mm | 720 mm | 805 mm | 920 mm |
| Maximum torque at 380 bar | 1,000 Nm | 2,000 Nm | 2,000 Nm | 4,500 Nm | 4,500 Nm | 6,300 Nm | 6,300 Nm | 11,300 Nm | 15,200 Nm | 20,200 Nm | 20,200 Nm | 25,400 Nm | 25,400 Nm | 30,300 Nm | 30,300 Nm | 36,400 Nm | 36,400 Nm | 51,000 Nm | 118,500 Nm |
| Maximum cutting force at 380 bar | 8,889 N | 17,778 N | 16,667 N | 24,324 N | 24,324 N | 31,500 N | 28,000 N | 38,501 N | 52,870 N | 56,267 N | 56,267 N | 70,752 N | 70,752 N | 84,401 N | 84,401 N | 101,393 N | 101,111 N | 126,708 N | 257,609 N |
| Recommended rotation speed | 100 rpm | 100 rpm | 100 rpm | 100 rpm | 100 rpm | 90 rpm | 90 rpm | 80 rpm | 80 rpm | 75 rpm | 75 rpm | 75 rpm | 75 rpm | 70 rpm | 70 rpm | 65 rpm | 65 rpm | 55 rpm | 50 rpm |
| Recommended oil flow | 15 – 25 l/min | 25 – 40 l/min | 25 – 40 l/min | 50 – 80 l/min | 50 – 80 l/min | 90 – 120 l/min | 90 – 120 l/min | 120 – 150 l/min | 150 – 190 l/min | 200 – 280 l/min | 200 – 280 l/min | 250 – 320 l/min | 250 – 320 l/min | 250 – 320 l/min | 250 – 320 l/min | 300 – 390 l/min | 300 – 390 l/min | 350 – 450 l/min | |
| Maximum oil flow at 10 bar | 40 l/min | 60 l/min | 60 l/min | 90 l/min | 90 l/min | 130 l/min | 130 l/min | 170 l/min | 210 l/min | 300 l/min | 300 l/min | 350 l/min | 350 l/min | 360 l/min | 360 l/min | 400 l/min | 400 l/min | 500 l/min | 1,000 l/min |
| Maximum hydraulic pressure | 400 bar | 400 bar | 400 bar | 400 bar | 400 bar | 400 bar | 400 bar | 400 bar | 400 bar | 400 bar | 400 bar | 400 bar | 400 bar | 400 bar | 400 bar | 400 bar | 400 bar | 380 bar | 380 bar |
| Weight | 155 kg | 155 kg | 167 kg | 310 kg | 340 kg | 480 kg | 530 kg | 892 kg | 1,070 kg | 1,780 kg | 2,000 kg | 1,780 kg | 2,000 kg | 1,780 kg | 2,000 kg | 2,500 kg | 2,800 kg | 3,500 kg | 6,000 kg |
| Number of picks | 44 pcs | 44 pcs | 56 pcs | 44 pcs | 64 pcs | 44 pcs | 44 pcs | 44 pcs | 44 pcs | 44 pcs | 56 pcs | 44 pcs | 56 pcs | 44 pcs | 56 pcs | 56 pcs | 64 pcs | 64 pcs | 68 pcs |
| Standard pick | 16/29/25/14 C | 16/29/25/14 C | 16/29/25/14 C | 16/46/38/20 C | 16/46/38/20 C | 16/46/38/20 C | 12/45/38/22 HC | 17/75/70/30 Q | 17/75/70/30 Q | 17/75/70/30 Q | 17/75/70/30 Q | 17/75/70/30 Q | 17/75/70/30 Q | 19/75/70/30 Q | 19/75/70/30 Q | 19/75/70/30 Q | 19/75/70/30 Q | 25/80/80/38 C | |
KR 15
Recommended excavator weight 0.6 – 3 t
Rated power 15 kW
Drum cutter length (A) 628 mm
Cutter head width (B) 425 mm
Cutter drum diameter (C) 225 mm
Maximum torque at 380 bar 1,000 Nm
Max. cutting force at 380 bar 8,889 N
Recommended rotation speed 100 rpm
Recommended oil flow 15 – 25 l/min
Maximum oil flow at 10 bar 40 l/min
Maximum hydraulic pressure 400 bar
Weight 155 kg
Number of picks 44 pcs
Standard pick 1) 16/29/25/14 C
KR 18
Recommended excavator weight 2 – 4 t
Rated power 18 kW
Drum cutter length (A) 628 mm
Cutter head width (B) 425 mm
Cutter drum diameter (C) 225 mm
Maximum torque at 380 bar 2,000 Nm
Max. cutting force at 380 bar 17,778 N
Recommended rotation speed 100 rpm
Recommended oil flow 25 – 40 l/min
Maximum oil flow at 10 bar 60 l/min
Maximum hydraulic pressure 400 bar
Weight 155 kg
Number of picks 44 pcs
Standard pick 1) 16/29/25/14 C
KR 20
Recommended excavator weight 2 – 4 t
Rated power 18 kW
Drum cutter length (A) 636 mm
Cutter head width (B) 495 mm
Cutter drum diameter (C) 240 mm
Maximum torque at 380 bar 2,000 Nm
Max. cutting force at 380 bar 16,667 N
Recommended rotation speed 100 rpm
Recommended oil flow 25 – 40 l/min
Maximum oil flow at 10 bar 60 l/min
Maximum hydraulic pressure 400 bar
Weight 167 kg
Number of picks 56 pcs
Standard pick 1) 16/29/25/14 C
KR 30
Recommended excavator weight 5 – 8 t
Rated power 30 kW
Drum cutter length (A) 846 mm
Cutter head width (B) 520 mm
Cutter drum diameter (C) 370 mm
Maximum torque at 380 bar 4,500 Nm
Max. cutting force at 380 bar 24,324 N
Recommended rotation speed 100 rpm
Recommended oil flow 50 – 80 l/min
Maximum oil flow at 10 bar 90 l/min
Maximum hydraulic pressure 400 bar
Weight 310 kg
Number of picks 44 pcs
Standard pick 1) 16/46/38/20 C
KR 35
Recommended excavator weight 5 – 8 t
Rated power 30 kW
Drum cutter length (A) 848 mm
Cutter head width (B) 620 mm
Cutter drum diameter (C) 370 mm
Maximum torque at 380 bar 4,500 Nm
Max. cutting force at 380 bar 24,324 N
Recommended rotation speed 100 rpm
Recommended oil flow 50 – 80 l/min
Maximum oil flow at 10 bar 60 l/min
Maximum hydraulic pressure 400 bar
Weight 340 kg
Number of picks 64 pcs
Standard pick 1) 16/46/38/20 C
KR 45
Recommended excavator weight 9 – 15 t
Rated power 45 kW
Drum cutter length (A) 990 mm
Cutter head width (B) 600 mm
Cutter drum diameter (C) 400 mm
Maximum torque at 380 bar 6,300 Nm
Max. cutting force at 380 bar 31,500 N
Recommended rotation speed 90 rpm
Recommended oil flow 90 – 120 l/min
Maximum oil flow at 10 bar 130 l/min
Maximum hydraulic pressure 400 bar
Weight 480 kg
Number of picks 44 pcs
Standard pick 1) 16/46/38/20 C
KR 50
Recommended excavator weight 9 – 15 t
Rated power 45 kW
Drum cutter length (A) 1,014 mm
Cutter head width (B) 690 mm
Cutter drum diameter (C) 450 mm
Maximum torque at 380 bar 6,300 Nm
Max. cutting force at 380 bar 28,000 N
Recommended rotation speed 90 rpm
Recommended oil flow 90 – 120 l/min
Maximum oil flow at 10 bar 130 l/min
Maximum hydraulic pressure 400 bar
Weight 530 kg
Number of picks 44 pcs
Standard pick 1) 12/45/38/22 HC
KR 65
Recommended excavator weight 12 – 18 t
Rated power 65 kW
Drum cutter length (A) 1,195 mm
Cutter head width (B) 805 mm
Cutter drum diameter (C) 587 mm
Maximum torque at 380 bar 11,300 Nm
Max. cutting force at 380 bar 38,501 N
Recommended rotation speed 80 rpm
Recommended oil flow 120 – 150 l/min
Maximum oil flow at 10 bar 170 l/min
Maximum hydraulic pressure 400 bar
Weight 892 kg
Number of picks 44 pcs
Standard pick 1) 17/75/70/30 Q
KR 80
Recommended excavator weight 15 – 25 t
Rated power 80 kW
Drum cutter length (A) 1,235 mm
Cutter head width (B) 805 mm
Cutter drum diameter (C) 575 mm
Maximum torque at 380 bar 15,200 Nm
Max. cutting force at 380 bar 52,870 N
Recommended rotation speed 80 rpm
Recommended oil flow 150 – 190 l/min
Maximum oil flow at 10 bar 210 l/min
Maximum hydraulic pressure 400 bar
Weight 1,070 kg
Number of picks 44 pcs
Standard pick 1) 17/75/70/30 Q
KR 110c
Recommended excavator weight 20 – 35 t
Rated power 110 kW
Drum cutter length (A) 1,470 mm
Cutter head width (B) 880 mm
Cutter drum diameter (C) 718 mm
Maximum torque at 380 bar 20,200 Nm
Maximum cutting force at 380 bar 56,267 N
Recommended rotation speed 75 rpm
Recommended oil flow 200 – 280 l/min
Maximum oil flow at 10 bar 300 l/min
Maximum hydraulic pressure 400 bar
Weight 1,780 kg
Number of picks 44 pcs
Standard pick 1) 17/75/70/30 Q
KR 110
Recommended excavator weight 20 – 35 t
Rated power 110 kW
Drum cutter length (A) 1,470 mm
Cutter head width (B) 1,040 mm
Cutter drum diameter (C) 718 mm
Maximum torque at 380 bar 20,200 Nm
Max. cutting force at 380 bar 56,267 N
Recommended rotation speed 75 rpm
Recommended oil flow 200 – 280 l/min
Maximum oil flow at 10 bar 300 l/min
Maximum hydraulic pressure 400 bar
Weight 2,000 kg
Number of picks 56 pcs
Standard pick 1) 17/75/70/30 Q