KEMROC's KRM Rotations Module is a highly versatile tool designed to enhance the functionality of excavators and other construction machinery. This compact and low maintenance unit is built with a durable worm gear drive, made from high quality steel, and heavy duty bearings, ensuring that it can withstand heavy use and tough working conditions.
The KRM Rotations Module boasts high holding torques, making it an ideal tool for applications such as rock drilling, trenching, and foundation work. With its continuous and stepless rotation, it offers precise control over the speed and direction of rotation, allowing for greater precision and efficiency.
The KRM Rotations Module is also designed for ease of use, with stepless rotation and a user-friendly interface that makes it easy to set up and operate. Its compact design and low maintenance requirements make it an ideal addition to any construction site, while its durable construction ensures long-lasting performance and reliable operation.
Whether you're working on a large-scale construction project or a smaller job, the KRM Rotations Module offers the versatility and performance you need to get the job done right. With its high holding torques, stepless rotation, and durable construction, it's the ideal tool for a wide range of applications. Contact us today to learn more about how the KRM Rotations Module can enhance the capabilities of your excavator or other construction machinery.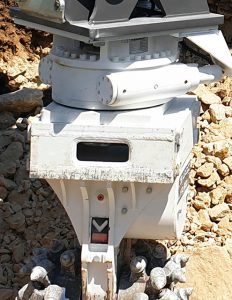 KRM 20
KRM 40
KRM 50
KRM 60
KRM 70
KRM 80
Recommended excavator weight:
2 – 6 t
Recommended excavator weight:
5 – 12 t
Recommended excavator weight:
8 – 15 t
Recommended excavator weight:
19 – 27 t
Recommended excavator weight:
25 – 40 t

Recommended excavator weight:
30 – 50 t

Maximum oil flow at 10 bar:
40 l/min
Maximum oil flow at 10 bar:
40 l/min
Maximum oil flow at 10 bar:
40 l/min
Maximum oil flow at 10 bar:
40 l/min
Maximum oil flow at 10 bar:
40 l/min

Maximum oil flow at 10 bar:
40 l/min

Height (B):
350
Height (B):
530
Height (B):
600
Height (B):
700
Height (B):
770
Height (B):
800