If you have unsightly tree stumps on your property, KEMROC has the perfect solution. KEMROC's newly developed KST range of tree stump grinders are designed specifically for quick and effective removal of tree stumps. With models available for use on excavators ranging from 2 to 25 tons in operating weight, as well as backhoe and skid steer loaders, we have the right grinder for your needs.
The KST range of tree stump grinders can operate at rotation speeds up to 2,000 rpm, making the process quick and efficient. Our cutter discs are specially designed to effectively grind both hard and soft woods and are fitted with tungsten carbide tipped teeth for maximum durability.
KEMROC's tree stump grinders are designed to leave the area clean and tidy, with minimal impact on the surrounding landscape. Our grinders are also equipped with optional rotation modules from the KRM range, which offer even greater versatility and efficiency.
With KEMROC's KST range of tree stump grinders, you can say goodbye to unsightly tree stumps and hello to a cleaner, more beautiful landscape. Commitment to quality and customer satisfaction means that you can rely on us to provide efficient, clean, and quick stump removal services. Contact us today to learn more about how our KST range of tree stump grinders can help you.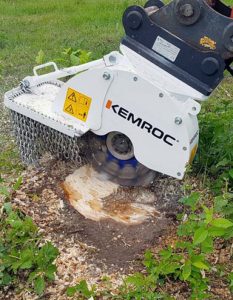 KST 20
KST 30
KST 40
KST 50
Recommended excavator weight:
2 – 4 t
Recommended excavator weight:
5 – 10 t
Recommended excavator weight:
10 – 16 t
Recommended excavator weight:
15 – 25 t
Rated power:
55 kW
Rated power:
80 kW
Rated power:
130 kW
Rated power:
135 kW
Recommended oil flow at 150 bar:
25 l/min
Recommended oil flow at 150 bar:
60 l/min
Recommended oil flow at 150 bar:
120 l/min
Recommended oil flow at 150 bar:
140 l/min
KST 20
Recommended excavator weight: 2–4 t
Rated power: 55 kW
Maximum torque at 350 bar: 140 Nm
Recommended rotation speed: 1,000 rpm
Maximum rotation speed: 1,200 rpm
Recommended oil flow at 150 bar: 25 l/min
Maximum oil flow: 30 l/min
Maximum operating hydraulic pressure: 350 bar
Weight of the base drive unit: 70 kg
Cutter disc
Weight with protection cover: 70 kg
Number of cuting tools: 20 Pcs
Standard cuting tool
Wood cutting tool set
Recommended excavator weight: 5–10 t
Rated power: 80 kW
Maximum torque at 350 bar: 311 Nm
Recommended rotation speed: 1,100 rpm
Maximum rotation speed: 2,000 rpm
Recommended oil flow at 150 bar: 60 l/min
Maximum oil flow: 140 l/min
Maximum operating hydraulic pressure: 350 bar
Weight of the base drive unit: 210 kg
Cutter disc
Weight with protection cover: 120 kg
Number of cuting tools: 30 Pcs
Standard cuting tool
Wood cutting tool set
Recommended excavator weight: 15–25 t
Rated power: 135 kW
Maximum torque at 350 bar: 721 Nm
Recommended rotation speed: 1,100 rpm
Maximum rotation speed: 2,000 rpm
Recommended oil flow at 150 bar: 140 l/min
Maximum oil flow: 330 l/min
Maximum operating hydraulic pressure: 350 bar
Weight of the base drive unit: 490 kg
Cutter disc
Weight with protection cover: 225 kg
Number of cuting tools: 42 Pcs
Standard cuting tool
Wood cutting tool set