THE KTS RANGE OF TRENCHERS CAN BE USED FOR PRODUCING CLEAN, CORRECTLY PROFILED TRENCHES QUICKLY IN COHESIVE SOILS AS WELL AS IN SOFT ROCKS WITH UNIAXIAL COMPRESSIVE STRENGTHS UP TO A MAXIMUM OF 20 MPA.
The cutter chain can be fitted with tungsten carbide tipped tools for soft rock or with tools designed for use in soils. In mixed ground, cutter chains with mixed tooling have given good results.
KTS Trenchers are designed for use on excavators from 2.5 to 10 tons and can be mounted on skid steer loaders with a suitable adaptor bracket.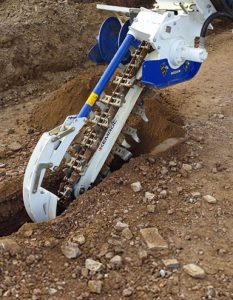 | | | | | |
| --- | --- | --- | --- | --- |
| KTS 10 | KTS 20 | KTS 30 | KTS 40 | KTS 50 |
| Recommended excavator weight: 2.5 – 4.5 t | Recommended excavator weight: 3 – 5 t | Recommended excavator weight: 5 – 7.5 t | Recommended excavator weight: 5 – 7.5 t | Recommended excavator weight: 5 – 10 t |
| Recommended oil flow at 150 bar: 35 – 65 l/min | Recommended oil flow at 150 bar: 45 – 80 l/min | Recommended oil flow at 150 bar: 60 – 95 l/min | Recommended oil flow at 150 bar: 70 – 115 l/min | Recommended oil flow at 150 bar: 80 – 135 l/min |
| Cutting width: 100 – 300 mm | Cutting width: 100 – 300 mm | Cutting width: 150 -350 mm | Cutting width: 150 -300 mm | Cutting width: 150 -200 mm |
| Cutting depth: 300 – 600 mm | Cutting depth: 600 – 900 mm | Cutting depth: 600 – 900 mm | Cutting depth: 800 – 1,200 mm | Cutting depth: 1,000 – 1,500 mm |
| Maximum uniaxial compressive strength: 15 MPa | Maximum uniaxial compressive strength: 15 MPa | Maximum uniaxial compressive strength: 20 MPa | Maximum uniaxial compressive strength: 20 MPa | Maximum uniaxial compressive strength: 20 MPa |
KTS 10
Recommended excavator weight 2.4 – 4.5 t
Adaptable to skid steer loaders yes
Trench cleaner available yes
Recommended oil flow at 150 bar 35 – 65 l/min
Maximum oil flow 65 l/min
Maximum hydraulic oil pressure 240 bar
Cutting width 100 – 300 mm
Cutting depth 300 – 600 mm
Maximum uniaxial compressive strength 15 MPa
KTS 30
Recommended excavator weight 5.0 – 7.5 t
Adaptable to skid steer loaders yes
Trench cleaner available yes
Recommended oil flow at 150 bar 60 – 95 l/min
Maximum oil flow 95 l/min
Maximum hydraulic oil pressure 240 bar
Cutting width 150 – 350 mm
Cutting depth 600 – 900 mm
Maximum uniaxial compressive strength 20 MPa
KTS 50
Recommended excavator weight 5 – 10 t
Adaptable to skid steer loaders yes
Trench cleaner available yes
Recommended oil flow at 150 bar 80 – 135 l/min
Maximum oil flow 135 l/min
Maximum hydraulic oil pressure 240 bar
Cutting width 150 – 200 mm
Cutting depth 1,000 – 1,500 mm
Maximum uniaxial compressive strength 20 MPa