KEMROC's KDS range of diamond cutting wheels are the perfect tool for cutting through a wide variety of materials, including concrete, steel, reinforced concrete, rock, and even glass fibre enforced plastics, which are commonly used in wind turbine blades. With their high rotation speeds and a large variety of cutter wheels available, KDS cutting wheels offer high performance in a wide range of applications.
The diamond cutting wheels are designed for use on different types of cutting machines, and are available in different diameters and thicknesses to suit your specific cutting needs. KDS cutting wheels are made with high-quality diamond segments that provide excellent cutting performance and durability.
The KDS range of diamond cutting wheels are ideal for use in a variety of industries, such as construction, demolition, and mining. Whether you need to cut through concrete walls, steel pipes, or even wind turbine blades, KDS cutting wheels offer exceptional cutting performance and precision.
KEMROC's commitment to quality means that their KDS diamond cutting wheels are built to last, ensuring that you can rely on them to get the job done right, every time. So, whether you're a professional contractor or a DIY enthusiast, KEMROC's KDS range of diamond cutting wheels is the perfect tool for your cutting needs.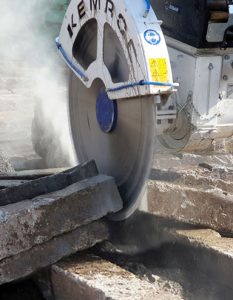 KDS 20
KDS 30
KDS 40
KDS 50
Recommended excavator weight:
2 – 4 t
Recommended excavator weight:
5 – 10 t
Recommended excavator weight:
10 – 16 t
Recommended excavator weight:
15 – 25 t
Rated power:
55 kW
Rated power:
80 kW
Rated power:
130 kW
Rated power:
135 kW
Recommended oil flow at 150 bar:
25 l/min
Recommended oil flow at 150 bar:
60 l/min
Recommended oil flow at 150 bar:
120 l/min
Recommended oil flow at 150 bar:
140 l/min
Maximum cutter wheel diameter:
700 mm
Maximum cutter wheel diameter:
1,500 mm
Maximum cutter wheel diameter:
1,800 mm
Maximum cutter wheel diameter:
2,000 mm
KDS 20
Recommended excavator weight: 2 – 4 t
Rated power: 55 kW
Maximum cutter wheel diameter: 700 mm
Maximum torque at 350 bar: 140 Nm
Recommended rotation speed: 1,000 rpm
Maximum rotation speed: 1,200 rpm
Recommended oil flow at 150 bar: 25 l/min
Maximum oil flow: 30 l/min
Maximum operating hydraulic pressure: 350 bar
Weight of the base drive unit: 85 kg
Recommended excavator weight: 5 – 10 t
Rated power: 80 kW
Maximum cutter wheel diameter: 1,500 mm
Maximum torque at 350 bar: 311 Nm
Recommended rotation speed: 1,100 rpm
Maximum rotation speed: 2,000 rpm
Recommended oil flow at 150 bar: 60 l/min
Maximum oil flow: 140 l/min
Maximum operating hydraulic pressure: 350 bar
Weight of the base drive unit: 330 kg
Recommended excavator weight: 15 – 25 t
Rated power: 135 kW
Maximum cutter wheel diameter: 2,000 mm
Maximum torque at 350 bar: 721 Nm
Recommended rotation speed: 1,100 rpm
Maximum rotation speed: 2,000 rpm
Recommended oil flow at 150 bar: 140 l/min
Maximum oil flow: 330 l/min
Maximum operating hydraulic pressure: 350 bar
Weight of the base drive unit: 720 kg